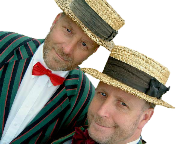 Activity Details
Our Butterfly Zoo Keeper shows your group our tropical butterflies and their life-cycle, how to find eggs, caterpillars and chrysalides, and tells of the surprising survival strategies they have evolved. Great for developing awareness of growth and the role of biodiversity. Indoors.
Play on our excellent 12-hole course with its all-weather surface, and the winner keeps the pencil! Great for developing fair play, competitiveness and basic arithmetic. Group Activity participants are started at different holes to play rounds simultaneously.
We lead your group to make a labyrinth - in minutes - then tell a story about it before organising a race 'round, and finally you wreck it! Great for developing listening, measuring and team skills.
Learn to fly a juggler's Diabolo on the grass. It's huge fun, and everyone learns a party-trick for life! Great for developing perseverance and coordination.
Laser Tag played at a purpose built Close Quarter Battleground based on CQB ranges used by Special Forces. It's like your favourite computer games - but real and outdoors. Games are progressive and based on Special Operations, but it's not hard-core military training. It's like paintball but without the pain or the paint - a non-contact sport which is sheer fun! Great for developing communication skills and team bonding - so excellent for staff-room team-building, your cadet corps and all sports teams.