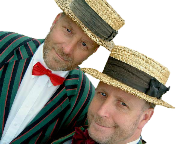 Group Activities
We host hundreds of booked groups every year, so you can rely on experienced staff for a great day out. With our unique range of exclusive Group Activities, you can make every visit different!
How to Book
Our online Booking System puts YOU in control of your booking:
Click the "Book us in!" Button above to log in for
Appointment Booking

where you get current availability, printed quotations and order bookings

My Bookings

where you check the status of your bookings

My User Profile

where you can change your contact details

Customer Support

where you will find technical support in the Frequently Asked Questions, or you can contact our Booking Administrator by posting in the Support Forum
Planning Resources
We have put together some resources to help Group Leaders with documentation for Risk Assessment, accessibility etc.: find out more.